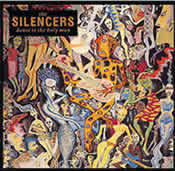 The Silencers: Dance to the Holy Man (1991)
All tracks mixed by Mark Wallis. Executive Producer Jimme O'Neill. Recorded at Studios Jam 22, Glasgow. BMG Records (UK)
Tracklist
1. Singing Ginger 1.40
2. Robinson Crusoe In New York 5.51
3. Bulletproof Heart 4.59
4. The Art Of Self Deception 5.16
5. I Want You 4.05
6. Just Can't Be Bothered 4.31
7. Cameras And Colleseums 1.03
8. One Inch Of Heaven Jimme 7.32
9. Hey Mr.Bank Manager 3.39
10. This Is Serious/John The Revelator 5.46
11. Afraid To Love 3.27
12. Rosanne 3.53
13. Electric Storm 5.51
14. When The Night Comes Down 3.25
15. Robinson Rap 1.01
Créditos
Jimme O'Neill: Vocals, guitar, harp, keyboards, penguin land
Cha Burns: Guitar, vocals, E Bow, Sirens and avenger
Davy Crichton: Electric violin, mandolin, accordian, keyboards, jugging
Tony Soave: Drums, percussion, tablas, fire extinguisher, convector heater, wine glass, t-tray
Lewis Rankine: Bass, skateboard, sega grandmaster
James "Jinky" Gilmour: Vocals, accoustic, guitar, dancing
Comentario
De la eclosión de brillantes grupos escoceses de pop-rock de los 80 y 90 (Del Amitri, Lloyd Cole, The Proclaimers, Texas, Simple Minds), ya hablé en otra ocasión. Hoy sugiero el tercer album de otro más. Jimme O'Neill conduce con su magnífica voz un disco presidido por el eclecticismo: energía pop-rock, melodías muy cuidadas, un poquito de blues, influencias del folk… como dije, eclecticismo.
El primer disco de los Silencers fue "A letter from St Paul" (1987), el segundo "A blues for Buddha" (1988). Dance to the Holy Man llegó tres años más tarde con una canción que actuaba un poco como punta de lanza (Bulletproof heart, la de los silbidos, se oyó relativamente por aquí). Pero había perlas de sobra: The art of self deception (melancólica), This is serious (poderosa), Rosanne (una delicia), When the night comes down (intensa) o I want you (redonda, vitalismo en estado puro),
Por cierto, del cantante son los dibujos del álbum.